VOTE! Vote NO on Issue 1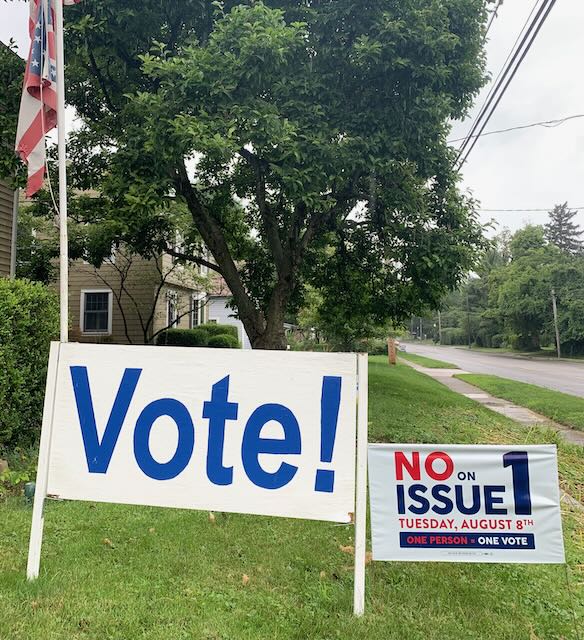 Dear Reader,
An extremely important Special Election is taking place on Tuesday, August 8th.  The only issue on the ballot is ISSUE 1.  I strongly urge you to vote—and to vote NO.
What is Issue 1?  It is a power-grab.  It is arrogant.  It is un-American.  It is an attempt by reactionary Republicans at the Statehouse to undermine the fundamental right of the people of Ohio to self-governance.  Combined with the pernicious effects of gerrymandering now plaguing our state and country, it would cement minority rule by powerful vested interests that are determined to thwart majority opinion here in Ohio.
Formally, Issue 1 would would change the rules for enacting new constitutional amendments in Ohio. It would 1) do away with a simple 50% plus one requirement for passing constitutional amendments, and instead require an unprecedented 60% of voters; 2) require citizens who want to place an amendment on the ballot to collect signatures from at least 5% of voters from the last gubernatorial election in all 88 counties, instead of the current 44; and 3) eliminate a 10-day cure period that allows citizens to replace any signatures deemed faulty by the secretary of state's office.
What can you do about this?  VOTE.  And vote NO on Issue 1.  And spread the word.
Make a plan to vote. Vote early if possible, by going to the Franklin County Board of Elections (FCBE) at 1700 Morse Rd, Columbus, OH 43229. Or vote on Election Day, Tuesday, August 8th, at your normal polling location.  Hours for early voting at FCBE are:
July 11-14: 8 a.m. – 5 p.m.
July 17-21: 8 a.m. – 5 p.m.
July 24-28: 8 a.m. – 5 p.m.
July 31: 7:30 a.m. – 7:30 p.m.
Aug. 1: 7:30 a.m. – 8:30 p.m.
Aug. 2-4: 7:30 a.m. – 7:30 p.m.
Aug. 5: 8 a.m. – 4 p.m.
Aug. 6: 1 – 5 p.m.
It is important to realize this is not a partisan issue, but is about fundamental rights of self-governance.  Former Ohio Governors Taft, Strickland, Celeste, and Kasich all agree: https://ohiocapitaljournal.com/2023/04/25/bipartisan-former-ohio-governors-against-raising-constitutional-threshold-to-60-and-august-vote/
Let's preserve our rights as a free and empowered people by saying NO to this power grab.  VOTE!