"Everybody can garden," Mr. Clarke said. "It's something that's intrinsic." Prestigious Rose Breeder Names Its New Bloom for a Black Gardener…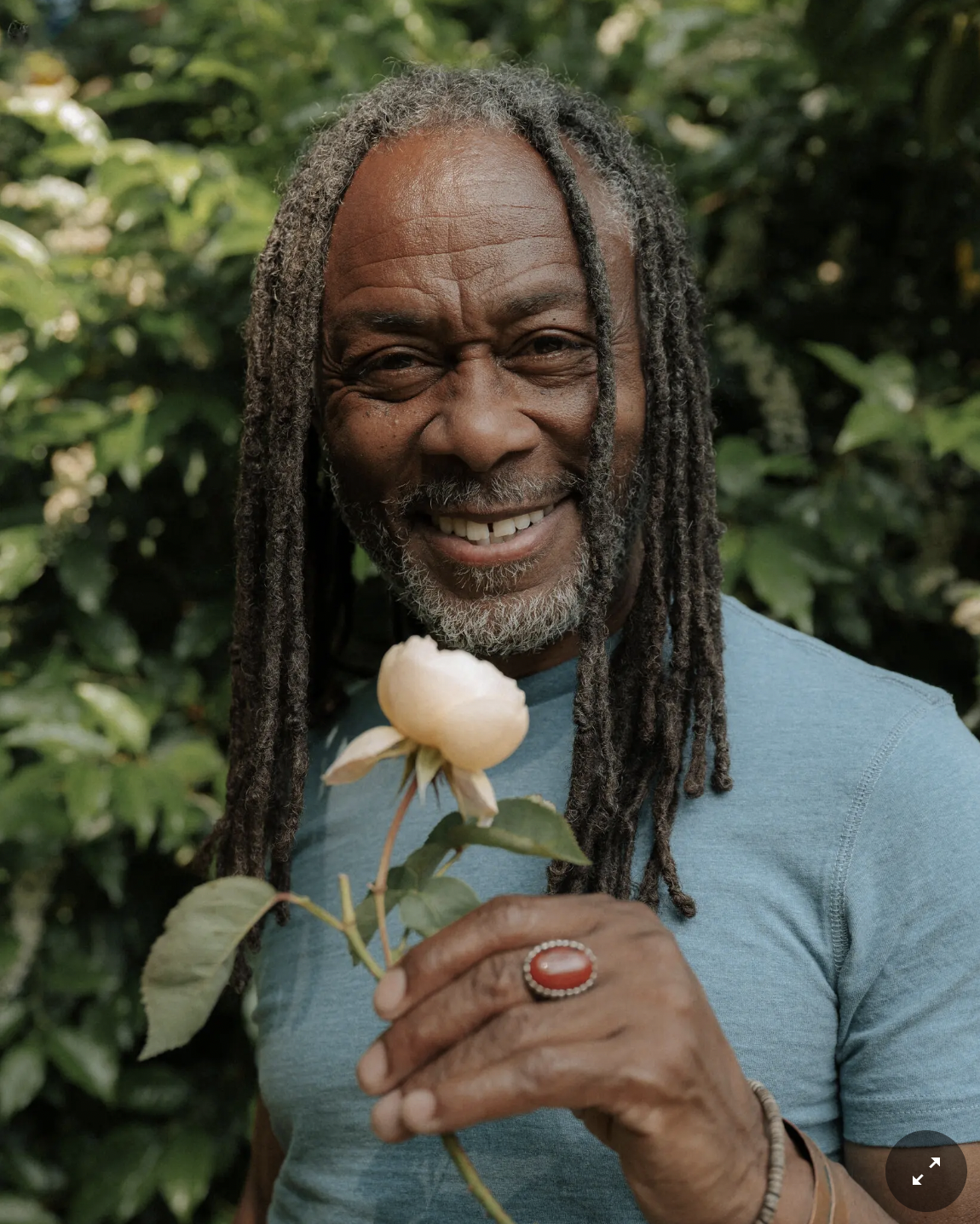 I read an uplifting article yesterday about an extraordinary man, Mr. Danny (Dannahue) Clarke, known to his social media followers and BBC viewers in Britain as the Black Gardener.  He is on a mission—expanding accessibility to green spaces, for all, while affirming the joy of working in and with nature.  He pursues his mission through gardening.  He says things like: "Everybody can garden. It's something that's intrinsic."  And, "At the end of the day, nature is a right, not a privilege."  
Happily, the article tells the tale of Mr. Clarke through the subplot of the David Austin Roses company, an iconic British enterprise that has, for 60 years, named new rose varietals every year, typically after historical British figures.  Every one of them—Charles Darwin, Queen Elizabeth, Roald Dahl, etc.—has been white, until now, with the introduction of the Dannahue, named after Danny Clarke. The Dannahue is an apricot-colored English shrub rose, available now only in Britain, but in the U.S. beginning next year.
So if your range of interests includes roses, gardening in general, social change, overcoming a legacy of slavery, or human creativity and the basic joys of life with nature, this article has something for you.  I've pasted the text below in case you can't access the article through the link: https://www.nytimes.com/2023/06/17/style/david-austin-roses-danny-clarke.html
~
Prestigious Rose Breeder Names Its New Bloom for a Black Gardener
By Remy Tumin
Published June 17, 2023, New York Times (Updated June 19, 2023, New York Times)
For more than 60 years, David Austin Roses has bred the world's most prestigious blooms. They are the Air Jordans, the Birkin bags, the Steinway pianos of roses, and have become what we know, smell and delight in as the modern English rose.
And every year for more than 60 years, David Austin Roses has named one or two new varieties after historical British figures, including Queen Elizabeth II, Emily Brontë, Roald Dahl and Charles Darwin. Until this year, those people have all been white.
Take a deep whiff of the Dannahue.
At the Chelsea Flower Show in London last month, David Austin Roses introduced the Dannahue, an apricot-colored English shrub rose named after Danny Clarke, a gardener known to his social media followers and to television viewers in Britain as the Black Gardener. The shrub is available only in Britain for now but will be sold to American gardeners next year.
Mr. Clarke, whose full given name is Dannahue, went from relative obscurity to a BBC gardening star on "The Instant Gardener" nearly a decade ago, and has since become a leading voice for expanding accessibility to green spaces. In addition to running a private garden design company, Mr. Clarke is a designer for Grow To Know, which teaches young people in disadvantaged communities how to garden.
"Everybody can garden," Mr. Clarke said in an interview from his garden in Bromley, a borough in southeastern London. "It's something that's intrinsic."
Now Mr. Clarke hopes that the rose named in his honor will help give other gardeners of color the confidence to connect to nature in a setting they may have otherwise felt was off limits to them.
"If they see me with an accolade like this, and they see me getting my hands in the soil and maybe visiting fabulous gardens and being a part of the countryside," Mr. Clarke said, "they think, if he can do it, why can't I do it?"
The Dannahue has been in development for 12 years, the average length of breeding for David Austin Roses.
David Austin released his first rose, Constance Spry, named for a British writer and society floral designer, in 1961. He went on to become one of the world's leading rose breeders, developing more than 200 varieties of his English Roses over the course of his lifetime. His son David Austin Jr. now runs David Austin Roses.
Mr. Clarke was selected to have a rose variety named in his honor after David Austin Jr. saw Mr. Clarke's display at the Chelsea Flower Show in 2022. With Tayshan Hayden-Smith, the founder of Grow To Know, Mr. Clarke had designed a garden inspired by global deforestation and social injustice. The two took home the silver medal.
"What David Austin has done beautifully is take that old-fashioned flower form and the fragrance and turned it into a modern, repeat-blooming shrub," said Peter Kukielski, a rosarian and a former curator at the New York Botanical Garden. "Who doesn't want that?"
Mr. Kukielski said he looked forward to explaining the provenance of the Dannahue.
"There's a lot of put-on-a-pedestal regarding this plant," he said of roses. "There's no reason in the world why we shouldn't have the diversity of names for plants as well. I'm thrilled, and applaud that they did this."
David Austin Roses usually releases about two varieties every year — another one is expected next month — after selecting two parental roses and hybridizing them by cross-pollinating around 40,000 seeds by hand. Eventually, about 350,000 seedlings are produced; 150,000 of those go through rigorous field trials for about five years until two emerge for commercial release.
"We are making sure that we are breeding roses that, of course, have all the charm and beauty and elegance of an English rose," said Kirsty Fleetwood, head of brand and content at David Austin Roses. "They have a resistance to disease, that they have good vigor and that they are something that can be grown in the ecosystem of today."
According to David Austin Roses, the Dannahue is a versatile rose that can grow in the sun or the shade, in containers on a balcony or along hedges in a vast green space, and in multiple soil types. It is also great for pollinators.
It is, in essence, sending "the exact same message" as Mr. Clarke, Ms. Fleetwood said.
"We need to make sure that gardening is accessible and inclusive, and to do that we need to produce roses that can thrive in any space and that anybody can grow," she said.
And then there's its fragrance.
"I pick up a bit of licorice in the scent, but it's very subtle, it's not in your face," Mr. Clarke said. "You're forced to get close to it to have a smell."
Mr. Clarke was born in Oxford to Jamaican immigrants and had a itinerant childhood. Whenever his family moved to a new home, his father, who served in the British Army, would send Mr. Clarke out to the garden as a way of acclimating him to his new surroundings.
"It was probably a chore," he said, "but the roots were sown."
Once he was older and had his own garden to look after, Mr. Clarke's childhood memories of being outside came flooding back.
Eventually, he traded a sales job for garden shears. In 2014, he rebranded himself as the Black Gardener to highlight the lack of diversity in his industry, an issue that he said could be traced back to slavery, when working the land was seen as demeaning.
"I'm on a mission to change that and to change that perspective," he said. "At the end of the day, nature is a right, not a privilege."
His message has been heard loud and clear.
Izwe Nkosi, a Black home gardener in the south of England, and longtime collector of David Austin Roses and a huge fan of Mr. Clarke, ordered the Dannahue rose as soon as it became available, documenting its arrival in grand form on TikTok.
"It's a big thing for me," he said in a Zoom interview from his garden. "To see it done by somebody who looks like me — he's got hair like me, he pretty much talks like me. And I can show my girls."
Mr. Nkosi said Mr. Clarke has provided a blueprint to create "amazing spaces" in an affordable and accessible way "for poor people like myself."
Most of the 30 or so roses in Mr. Nkosi's small garden are David Austin Roses, including the Emily Brontë, Strawberry Hill and Gabriel Oak varieties. Now the Dannahue will be taking center stage.
"When you smell it, it literally penetrates your being," he said. "If you're having a horrible day, you just want to smell it and chill."