EWBR: a Specific Issue reflecting Big Choices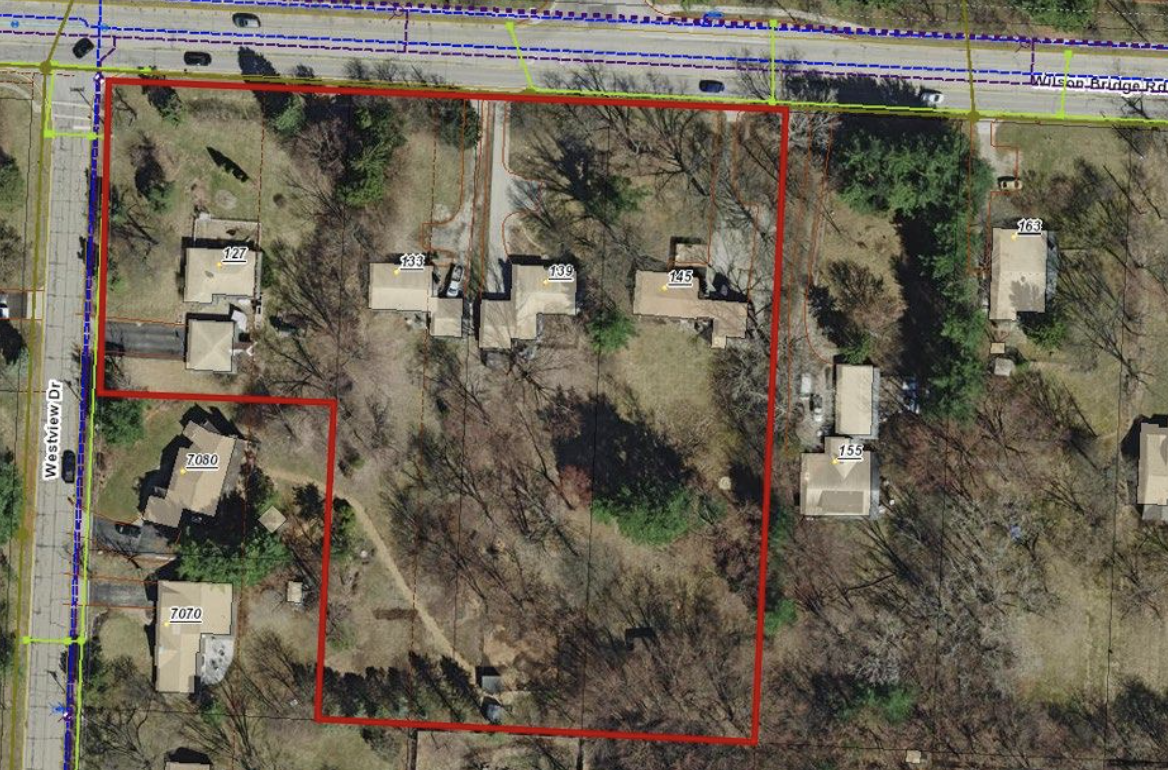 There is a complicated set of issues unfolding up on East Wilson Bridge Rd. (EWBR) that may seem peripheral—since literally near the outer edge of our city—but which touch upon some of the biggest decisions we face as a community (land use, city revenue, housing, and relations between residents and their city government).
What follows is my attempt to summarize the immediate issue, followed by notes that I prepared for a recent special meeting of our City's Community Improvement Corporation (CIC) in response to developments on EWBR.  As always, I welcome feedback and questions via my blog page.
Summary:
Twelve years ago, our City, in a weak financial position in the aftermath of the Great Recession, developed a Wilson Bridge Road Corridor Plan.  The basic assumption driving the Plan was that existing land uses along the corridor, having developed organically since the city's founding, had in some ways been haphazard and did not represent the best use of the land for meeting the City's long-term objectives. (The Market Analysis underlying the Plan portrayed Worthington as a city in a precarious state, threatened by an aging population and declining home values, and in need of attracting millennials by way of apartments, etc.; this analysis has been superseded and rendered moot by the facts of an upsurge of young families in our city and booming home values). The Plan was approved by City Council in 2011.
The southern side of East Wilson Bridge Rd. was slated in the Plan to become primarily commercial or, near McCord Park, apartments, instead of the existing large-lot single-family homes.  The pre-emptive rezoning of EWBR, which would make the existing single-family homes non-conforming, did not take place when the Plan was approved in 2011.  Instead, for reasons that are not clear, the rezonings did not come before Council until December of 2021, over ten years after the Plan had been approved by an earlier Council.
Meanwhile, in the last several years, the City's CIC purchased four residential parcels at the corner of Westview and EWBR, in order to be able to prepare the parcels for commercial development, in accord with the 2011 Plan.
When the pre-emptive rezonings were finally brought before Council late last year, it became apparent to me—through study of the proposed legislation, and by listening to the residents of the surrounding neighborhoods—that much had changed since the Plan had been approved ten years earlier.  I also took seriously the fact that our Municipal Planning Commission (MPC) had, a month earlier, recommended rejection of the rezoning legislation.  I read the transcripts of the MPC meeting, and this too confirmed my thinking that the original context informing the Plan had fundamentally changed, and that it would be wise to at least pause to reconsider our actions.  It seemed to me that we were turning an old plan in to dogma, acting by way of unexamined inertia, raising the possibility of poor decisions and poor governance.   
So I raised these issues earlier this year with my colleagues on Council, at the same time that we discussed how to mitigate the negative effects on home owners of their property becoming non-conforming (through the rezonings that had passed in December, 2021, and which I voted against).  I shared my thinking that we have an opportunity with the CIC-owned parcels to look at the full range of possible uses, not just commercial, in light of current circumstances.  The city owns the land, and thus has full control, so let's pause and think creatively, considering uses that are compatible with 1) the neighborhood and current resident sentiment, 2) our current (and prospective) financial position, and 3) current interest in a range of housing concepts.  The CIC-owned parcels, 3.25 acres, could serve as a pilot study for a modest sized housing development that could be replicated, in site-specific ways, elsewhere in our community.  To me, modest-sized housing developments (several acres), harmonious with the surrounding community, each with their own particular character (as opposed to large, monolithic, high-density developments), is the best way to augment our existing housing options in Worthington.  
This suggestion of mine that we pause to consider alternatives to commercial at the CIC-owned parcels resulted in the convening of a special meeting of the CIC to discuss these issues. My prepared notes are below.  The effects of this meeting, if any, and whether the CIC will consider outcomes other than that called for in the 2011 Plan, remain to be seen.  Stay tuned.
Relevant link to City website: https://worthington.org/645/2011-Wilson-Bridge-Road-Corridor-Study and  https://worthington.org/1884/East-Wilson-Bridge-Road-Projects
Prepared notes for special CIC meeting, 4.8.22:
Thank you for this opportunity.
If the WBRC PLAN had been developed and adopted during the last year or two, with robust public engagement in the process, and broad support particularly from the surrounding neighborhoods, I wouldn't have suggested that the City pause in its redevelopment plans for the City-owned parcels, and we wouldn't be here today.
But that is not the situation.  The WBRC Plan was written in 2010—a full twelve years ago—in a very different world, in the immediate aftermath of the Great Recession (2008-2009), and was adopted by City Council over a decade ago in July of 2011.
As most of us here today remember, the impact of the Great Recession on the world and our nation was devastating: US GDP -4.3% in 2009, household net worth -17%
The impact on City finances was likewise substantial. To give you an idea: City Income tax revenue was just $19.6 million in 2011 (compared to over $30 million ($30.7)  in 2021, a 56% increase).  The City's General Fund Balance (Unencumbered), another key metric of the City's financial health, was a mere $126,000 in 7/1/2010 (compared to $18.1 million at the end of last year (12/31/21)).
The fact that the WBRC Plan was written amidst these bleak financial conditions can be seen in the Market Analysis that provided the rationale for the Plan itself.
Plan's Market Analysis: city in decline, death spiral (aging, degrading, devaluing): But reality since then, facts, have fortunately dispelled these assumptions about our city.
Now: Twelve years later (late 2021), when rezoning was eventually brought before MPC (rejected) and Council (approved), things are quite different:
City Finances: revenues exceeding projections; robust General Fund balance
Demographics: healthy, upsurge of young families, baby-boomlet
Home Values: extremely strong
And, very importantly, what about resident support?  Unlike in 2010, residents are now very opposed. Their petition.
To me, our neighborhoods are sacrosanct: bar is very high to rezone in opposition to the neighborhood; necessity only justifies
This alone gives me pause, and prompts me to reconsider the execution of the 2011 Plan.
But that's not all: what prompted me to actively think about the possibility of an alternative use for the CIC-owned parcels is the important issue, being raised nationally, regionally, and locally, by some of our residents, by some of you (I believe), is the issue of housing—a shortage, of all types—but particularly diverse, affordable, missing middle, many forms.  I first became aware of this myself 3-4 years ago in reference to senior housing, more recently, affordable housing.
Here in Worthington, basic questions about housing exist: what forms and scale are viable financially and politically.  The CIC-owned parcels, 3.25 acres, could serve as a pilot study; a modest sized development that could be replicated, in site-specific ways, elsewhere in our community.  To me, modest-sized housing developments (several acres), harmonious with the surrounding community, each with their own particular character, is the best way to augment our existing housing options in Worthington.  There are a number of locations in Worthington where this is possible.
Further, Worthington already enjoys having substantial commercial and industrial acreage, and I question whether adding more is a balanced way forward.  Commercial/Industrial acreage: UA <5%, Dublin 11%, Worth 21.87%. Worthington's portion of commercial acreage is over four times that of UA, twice that of Dublin.
And so, these two factors—opposition from the neighborhood, and a call from a number of our residents to explore and do something to meet a present need—impelled me to raise this issue with my colleagues. And that is why I'm here today.
My suggestion, request, is that you consider, with open minds, that the best use, the highest use, may be something different than what was conceived 12 years ago in a very different world.  That's all.  Thank you.