Upbeat Report: City Finances at mid-year (6.30.21)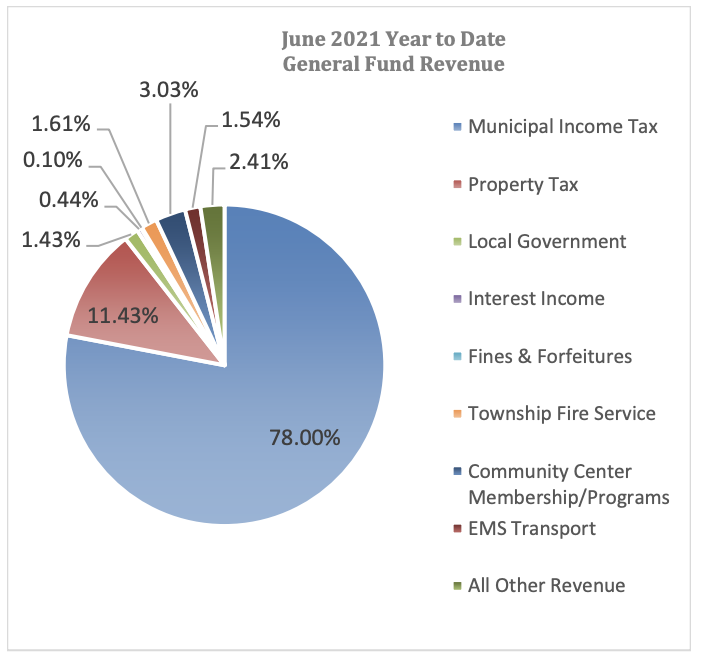 At Council last night, our Finance Department shared a report with upbeat numbers for the City's financial performance at mid-year (6.30.21).  Here's a few highlights:*
Income tax collections of $3.25 million for the month of June were a second-best ever (last month holds the record).
Year-to-Date income tax collections ($15.8 million) are an impressive 16.3% above comparables for 2019 (pre-covid) and 22.7% above 2020.
These income tax collections are highly significant for the overall financial health of the city since income tax revenues account for roughly 3/4 of total General Fund revenue (see pie chart above).
Expenses (mostly personnel costs) are $3.2 million below budget YTD.
Increased revenue and reduced expenses translates in to a growing General Fund Cash Balance, now at $19.9 million (up from $18.4 million at 1.1.21).
Commentary: I see these impressive numbers as reflecting Worthington's resilient economy, grounded in our long-term, structural strengths—favorable location, distinctive community character, and a talented population, to name but a few key factors.

  Also to keep in mind—t

here are significant development projects under way that will further catalyze our local economy and will add, directly and indirectly, significant revenue once they come online: 1) the High North (Worthington Mall) redevelopment (including the 8-10 story office building), 2) the Worthington Gateway project (old Holiday Inn site, including the 4-story mixed use building and office/retail fronting Wilson Bridge Rd.), 3) the "Anthem building" (capacity of

 

≈ 200k sf), that has recently signed its first tenant, 4) the city-directed redevelopment of residential-to-commercial parcels on the south side of East Wilson Bridge Rd., and, lastly, 5) the Northeast Gateway project (reconfiguring of the Wilson Bridge/Huntley/Sancus/Worthington-Galena interchange) that will greatly improve this key logistical hub along our eastern industrial corridors.
* The full June, 2021, report can be read here, pages 10-15: https://www.worthington.org/ArchiveCenter/ViewFile/Item/3837   Please note that the General Fund income #s on the last page of the report (p. 15) reflect total income tax revenue minus the standard 20% allocated to the Capital Improvements fund ($15.8 – 3.2 = 12.6).