Music in the Streets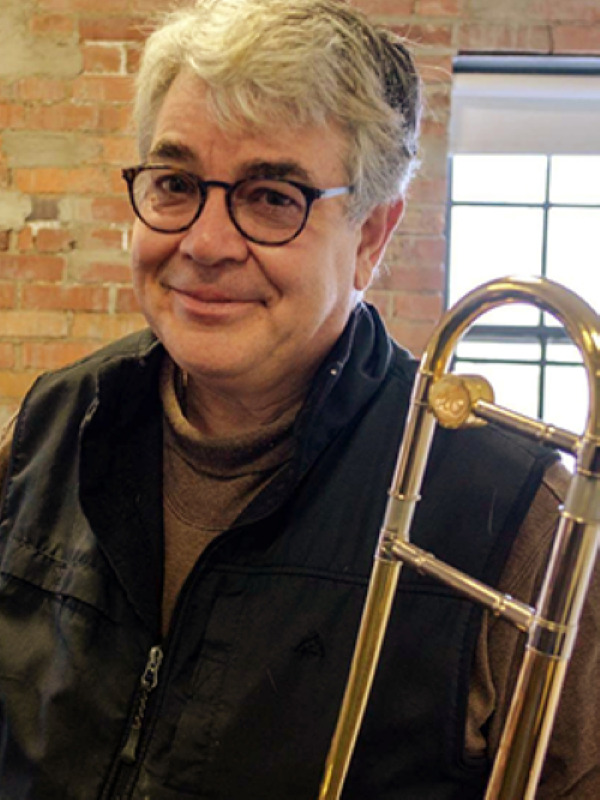 About a year ago, when the covid-lockdown had first taken hold, and the roadways were eerily silent and still, and there was unease in the air, I was at home in the quiet of the upstairs study, filled with uncertainty and some foreboding, when I heard a most wonderful sound—music in the streets.
Was I imagining things?  No, I heard in the distance, just to the west, a trombone—jaunty, uplifting, time-to-dance, a bit like something out of New Orleans. My heart instantly lifted, and I rose from my seat, musically reminded of that irrepressible human spirit that says "yes" to life that no virus can squelch.
The source of this musical offering?  None other than my neighbor, Jim Masters, jazz musician, educator, performer, recording artist, and lecturer extraordinaire.  In that hopeful moment, I saw better than ever what a gift he is to the neighborhood (he serenades us during the holidays, gives plastic trombones to my kids to play, etc.).  And so I was not surprised when I learned yesterday that Jim Masters is the recipient of the Columbus Symphony's 2021 Music Educator Award—Lifetime Achievement.  This is a huge honor and so well deserved.  I've copied below the full statement from the Symphony.
So congratulations Jim!  And thank you for that gift of music that you bring to our neighborhood.  Encore!
(photo credit, Stephen Pariser)
__________________
The Columbus Symphony, 2021 Music Educator Award – Lifetime Achievement
Jim Masters: Jazz Educator, Lecturer, The Ohio State University
Trombonist and educator Jim Masters took up the trombone at age six, and founded a Dixieland/Tijuana Brass cover band, The Brass Leaf, at 13, playing on a riverboat in his hometown of St. Charles, Illinois. When he moved to Ohio in 1971, he started a big band at his high school and began studying trombone, eventually being recruited to study at Youngstown State University where he became a member of its award-winning jazz ensemble. His studies also took him back to Illinois at Wabaunsee Community College where he garnered numerous collegiate awards and became a member of the Chicago Jazz Ensemble at Columbia College.
In 1979, Masters and his wife moved to New York City, where he toured with the Buddy Rich Big Band and the Widespread Jazz Orchestra, performed as a member in the bands of Jorge Anders, Roy Gerson, Alan Simon, Dave Lalama, Maria Schneider/John Fedchock, and many others. He worked in pit orchestras and led bands for many corporate and society events, and was also a regular recorded member of Bending towards the Light – a Jazz Nativity. He has performed with many Columbus artists including Bobby Floyd, Dave Powers, Joe Dunlap, Hank Marr, Gene Walker, and Harmony Project.
As a vocalist, Masters has recorded many jingles, standards, and originals, and is a songwriter and composer with more than 100 compositions. His song "In St. Charles" was named the official song of his hometown. Others include "Back Where I Belong" (the official song of Licking County), "Let's Take a Walk Around Worthington," "You Just Made My Day," and "I Love This Land That is America" with the Westerville Concert Band. His music is performed weekly in numerous congregations.
Masters developed the American Jazz Experience, a one-hour informance of live acoustic music, as an introduction to professional musicians and their instruments. After the quintet became affiliated with the Greater Columbus Arts Council's Artists in School, the Jazz Arts Group helped the program to reach more than 200,000 students.
Masters became a member of the Columbus Jazz Orchestra in 2001 and redeveloped its "All That Jazz" program. He also helped create curriculum for "Making Choices" and created and presented young people's concerts for The West Point Military Academy's Jazz Knights.
Masters has served as lecturer at The Ohio State University since 1994, teaching primarily jazz trombone. He has directed and written for all three of the big bands and small ensembles and has taught jazz pedagogy and improvisation courses. Masters served as jazz vocal instructor for at Capital University for two years, also leading a vocal ensemble there. He has also served on the faculty at OSU Jazz Camps, JAG Jazz Academy, Richland Academy of the Arts, St. Charles Arts Festival, and the Stanford Jazz Workshop.
~