Council Resolution on Racism, June 2020
Last night, your City Council discussed and worked methodically through the language of what I believe is a significant Resolution, with the working title, "Recognizing the Impacts of Racism and Committing to Promote Racial Equity."  The discussion can be viewed here (as first agenda item: http://worthingtonoh.new.swagit.com/videos/63033).  A final draft, embodying the changes that emerged from our meeting, will be brought before Council next week for review and, with high probability, a vote for adoption.
I view this Resolution as a statement of values and understandings, but also as a commitment to action.  Our audience is certainly the Worthington public, but also the broader world, so that all persons may know the type of community we are, and aspire to be, as expressed by your City Council.  Throughout, an effort was made to speak directly, acknowledging pain, the breadth of our problems, and responsibilities.  The words are not perfect, but no document, especially by committee, ever says all things for all persons.
The text embodies many key ideas: a clear acknowledgement of the pervasiveness of racism in our society; the recognition that action at the local level is required if we are to successfully address this scourge; an affirmation of, and our continued commitment to, our own law enforcement officers; and, finally, and importantly, a commitment to act, beginning with a clear-eyed assessment—and reporting to Council and the public—regarding racial equity here in Worthington.  
I realize these issues are vast, and the language we use is often broad and open to different interpretations.  But that's OK.  We will gain clarity as we discuss further, as our awareness and ideas continue to grow and mature.  I have found, in my own heart, during the last few weeks, a changing sense of who I am, and who we are, made clearer by watching and listening to the many voices that now call in unison for overdue justice.  I view this change not with fear, but with grateful anticipation.  This brings to mind Rumi, who wrote:
When grapes turn to wine, they long for our ability to change. 
When stars wheel around the North Pole, they are longing for our growing consciousness.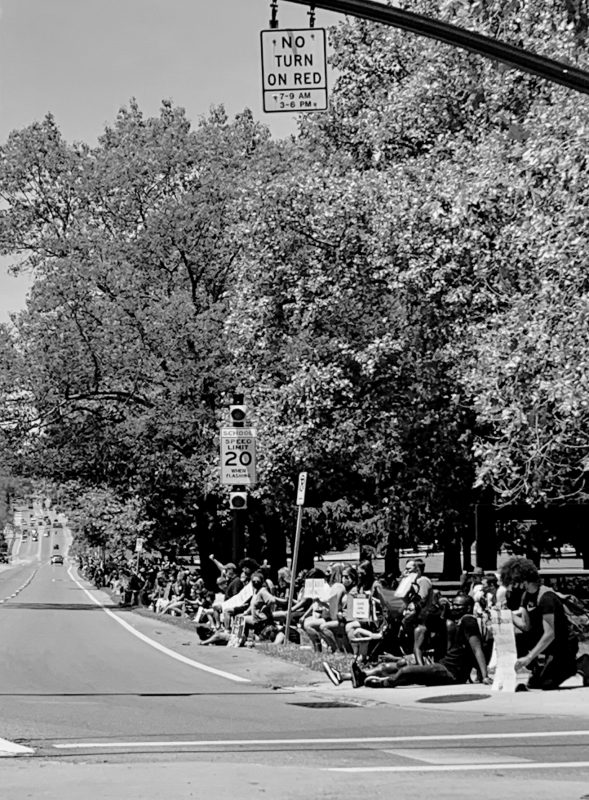 The image directly above, and the primary image at top, were taken last Sunday at the noon rally, Thomas Worthington High School.  The image directly above was taken during the 8+ minutes of silence, memorializing George Floyd.