UMCH, Parks and Rec Commission letter to City Council (2014): "We feel compelled to put in writing our thoughts and recommendations…""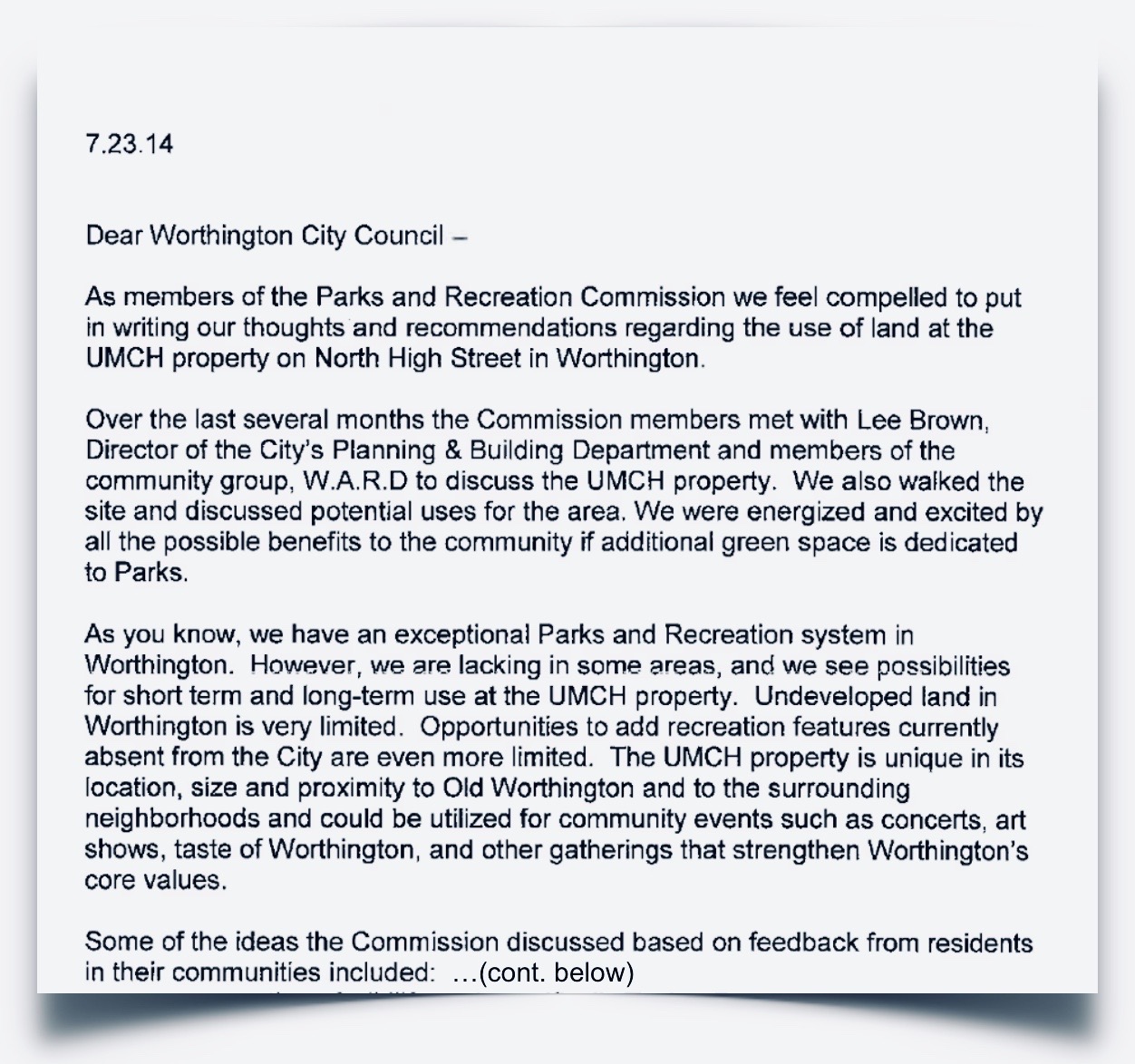 The issue of UMCH was often center stage at last Thursday night's City Council Candidate Forum, with the thirteen candidates' positions ranging across the full spectrum.  The dialog was engaging and informative, but it would have been helpful to voters if the candidates had shared their thoughts on the history of things at UMCH.  I'm referring specifically to the city's role in helping to create the unproductive and divisive impasse at the property, now going on its eighth year.  Knowing how the candidates understand the recent past would shed abundant light on how they see the way forward.
As a voter, I'm looking for candidates that support a resident-centered outcome at the site. But for us to get there, I know we'll need a City Council committed to proactive and transparent engagement with the public.  Unfortunately this has not always been the case, which is at the root of our UMCH problems.  I'm hoping that the current candidates for Council understand this, and commit themselves publicly to a healthy city-resident relationship.  I'll write more about this topic in the future—but I thought it important to broach the subject by way of this post's illustration.
Advocacy for public greenspace at UMCH (an issue at the heart of the current debate) didn't begin with Project Community Park Worthington (https://projectcommunityparkworthington.com/), or with the publication of WARD's White Paper (2018).  Years earlier (2014), prior to Lifestyles' last apartment-heavy proposal (2015), our own Parks & Recreation Commission wrote a formal letter to our City Council, urging them "to make every effort possible to reserve a large portion of the land (though zoning or purchase or otherwise) for parks and recreation and community space." 
Unfortunately, Council leadership at the time was not very keen, to put it mildly, on this outreach effort by the Parks Commission. The Commission's letter was never shared with the public, nor discussed with the Commission itself in a public setting (I am told they were admonished in Executive Session).  This of course prevented any meaningful discussion with the residents about the commission's viewpoints—a conversation that might have steered our city in a more productive direction.  The full letter can be read here via pdf link (Parks and Rec. Comm., UMCH Council letter, 7.23.14). Or it can be viewed below (in smaller format).  Let us hope that the 2020 City Council Members will serve the public in a more direct and productive manner.  A Citizens' Voter Guide is available to help us decide who is likely to do so: https://www.worthingtonvoterguide.com/